---
| | |
| --- | --- |
| | Ammeter 3 reads 3 A |
Ammeter 3 reads 3 A. This is because the total current* flowing from a cell* in a parallel circuit equals the sum of all the currents flowing in the loops.
To explain why, we'll show you how the current flows through the circuit. We'll show you this in four stages...
STAGE 1

A full current flows out from the positive terminal and reaches Junction X: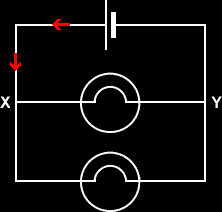 STAGE 2

At Junction X the current splits.
The current splits equally because the lamps are identical: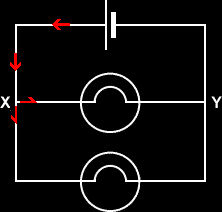 STAGE 3

The two "half" currents flow through the two loops.
At Junction Y the two "half" currents re-join: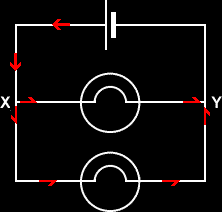 STAGE 4

A full current then flows back to the negative terminal.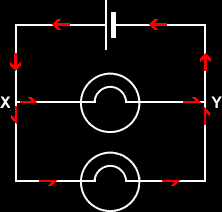 (We hope you noticed that we used conventional current in our explanation!)
---
---