---
Parallel Circuits Summary

A circuit is a loop of wire with its ends connected to an energy source.

One end of the wire is connected to the positive terminal; the other end of the wire is connected to the negative terminal.

Parallel circuits have their components lying inside "parallel" loops connected to the same energy source. For example: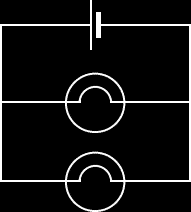 Failure of one component in a parallel circuit does not lead to the failure of the other components.

The more components connected in parallel, the more energy is used.

The total current flowing from a cell in a parallel circuit equals the sum of all the currents flowing in the loops.

RELATED TOPICS:
Cells & Batteries | Circuit Symbols | Current Electricity | Series Circuits | Voltage & Current
---
---