---
| | | |
| --- | --- | --- |
| | New Technology: LED Bulb Conclusions | |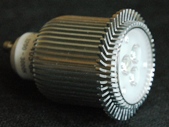 LED bulbs are now a 'mature' technology - meaning we can consider them fit for purpose and at last able to outperform the bulbs they replace by some very large margins.
As with any new technology though, the price will continue to reduce - so too will the payback time! That can only be good for people's pockets - and at the same time it will help reduce our demand for energy at a time when costs are rising fast.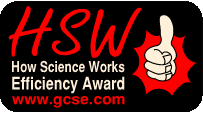 We are delighted to award Totalight the GCSE.com efficiency award for bringing to market a reliable replacement for the ubiquitous 50 W halogen lamp at a price which enables a very realistic payback time as long as the bulbs are installed in places where they are frequently used.
This is the lighting technology of the future - here today.

LED bulbs are more efficient than filament bulbs.
This is because they produce much less heat.

LED bulbs need direct current (DC) to work, so need a transformer to change AC to DC if connected to the mains.

LED bulbs still produce some heat, so a heat-sink is used to allow circulating air to cool them down.

LED bulbs pay for themselves completely because the cost of the energy saved eventually exceeds the initial cost of the bulb.

---
---