---
| | |
| --- | --- |
| | Equations of Motion |
From our work on speed-time graphs, it should be obvious to you that the graph below shows something accelerating.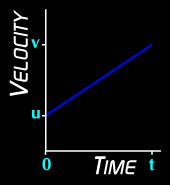 The initial velocity is given the letter u.
The final velocity, v.
The time taken for the acceleration is t.
The slope, or gradient, of the line is = (v-u)÷t, which is, of course, the acceleration!
---
---