Revision Workbooks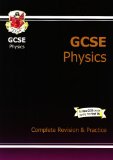 GCSE Physics:
Complete Revision & Practice
Be sure to choose the guide appropriate to your exam specification!

These guides present material in a lively manner, giving you the bare facts up front. The questions provided are also a useful starting point for your revision.
The guides also make it clear what you need to know for your course. There's no point revising material you won't need in the exam!
Formula Help
One of the best boosts to exam performance is knowing how to use formulas! This is not hard, and you no longer need to know any, but you do need practice!
GCSE.com has formula help, but we strongly recommend the following to work through on your own: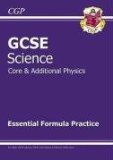 GCSE Core and Additional Physics:
Essential Formula Practice (Formula Bits)

Probably the best £4·00 you could spend on a revision guide. It will also help you throughout the course.