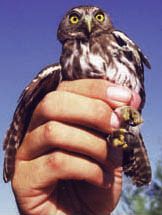 Endangered Arizona Pygmy Owl.
Arizona Game & Fish Dept.
To be discreet, someone or something is being careful or using caution, so as not to be too obvious...

"The presence of Christmas was discreet - a moderately-decorated spruce here, a string of lights there."
From Christmas in Rome by Philip Marsden.

To be described as discrete, something is seen to be a separate thing...

"The endangered Arizona pygmy-owl is discrete from the remainder of the species."