Showing Your Discoveries
THIS IS LEGACY MATERIAL - the science is correct but the marks no longer apply!
Up to 8 marks are available for analysing results from your practical investigation. Here we start using scientific language to get 6 marks.
A.6b
Building on what you'll have already said to get A.4b, it's really important to put a bit more science in your conclusions!
Obviously a good graph for A.6a will give you something to talk about, but realistically you should be showing that you know what you're talking about...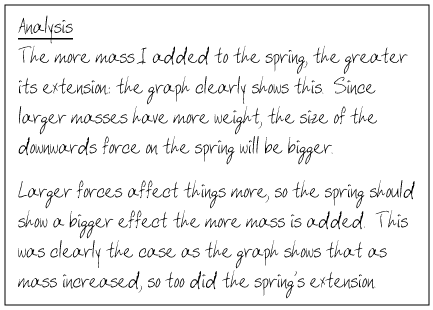 That'll do. Nice one. Still, if you talk a little more specifically about what the graph is actually showing, and refer to the science that you used in your plan, I'm sure this would be worth 8!