PHYSICS:
Main Menu
Coursework
Assessing How You Got On
THIS IS LEGACY MATERIAL - the science is correct but the marks no longer apply!
Up to 6 marks are available for evaluating your investigation.
As always, you must achieve the lower marks before you can be awarded marks higher up.
E.6b
If your experiment went well, and you drew a fantastic conclusion, there really isn't any point in doing anything more. However, you are supposed to write something about extending the investigation. You can either write about how you might like to investigate a wider range of results, or perhaps discuss the effect of altering another variable and seeing what happens.
---
Real Life™
In real life, real scientists do have to think like this. Consider Chris, a physicist working with solar panels. His first design is only 40% efficient (so 60% of the energy from the Sun doesn't produce electricity). Chris thinks "I wonder what would happen if I made them like this instead..." and then ends up with 50% efficiency. Give him a medal...
---
Let's see what further work our guy suggests: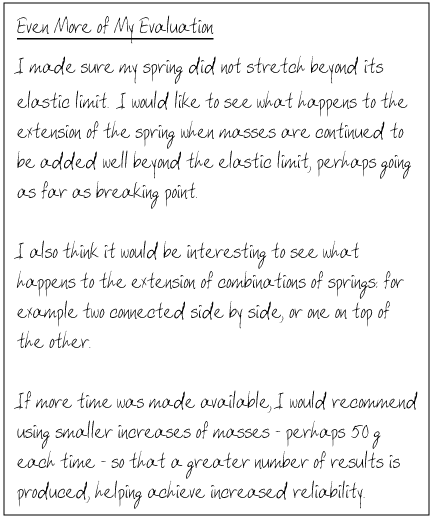 Wow - I think this kid will go far! Perhaps they're considering a career using physics? Let us know how useful this coursework section is, and good luck writing yours up.
SPONSORS:
Physics online tutoring
Tutorhub provides Physics online tutoring and homework help.