PHYSICS:
Main Menu
Coursework
2a
Evaluating

SUBJECTS:
English
French
ICT
Maths

SECTIONS:
About Us
Bookshop
Coursework
Downloads
Links
Revision Tips
Getting and Recording Results
THIS IS LEGACY MATERIAL - the science is correct but the marks no longer apply!
Get up to 8 marks just for obtaining and recording results from a practical. This is what you are expected to do.
The Obtaining Criteria
In physics, it is normally really straightforward to obtain good quality results - although this often depends on the task chosen. Stretching a spring (to investigate Hooke's law) normally works brilliantly: getting a minimum of 6 marks is all a matter of being careful what you do and how you write it up.
O.2a
Getting 2 marks is easy: basically you just need to have provided evidence that you collected some results safely: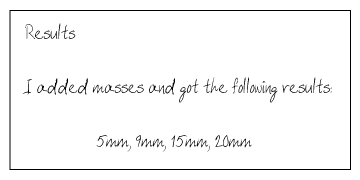 As long as your teacher saw you carry out the experiment safely, the above feeble attempt is enough to score you 2/8 - but no more.
Let's see what more you need to do:
SPONSORS:
Physics online tutoring
Tutorhub provides Physics online tutoring and homework help.