PHYSICS:
Main Menu
Coursework
8a & 8b
Evaluating

SUBJECTS:
English
French
ICT
Maths

SECTIONS:
About Us
Bookshop
Coursework
Downloads
Links
Revision Tips
Getting and Recording Results
THIS IS LEGACY MATERIAL - the science is correct but the marks no longer apply!
Up to 8 marks are available for obtaining and recording results. Here is an example of what you might be expected to do.
O.8a
Up until now, our pupil has assumed the masses they were using were perfect. There is, of course, no such thing! How many times have you dropped slotted masses in your classroom? Every time this happens, bits get chipped off. Besides which, manufacturers don't claim to produce them to within 0.1 g of 100g - this would make them very expensive!
This time, our pupil has made use of a digital balance in the lab to record the masses more precisely. If a better balance had been available, they could have even recorded mass to 0·01g: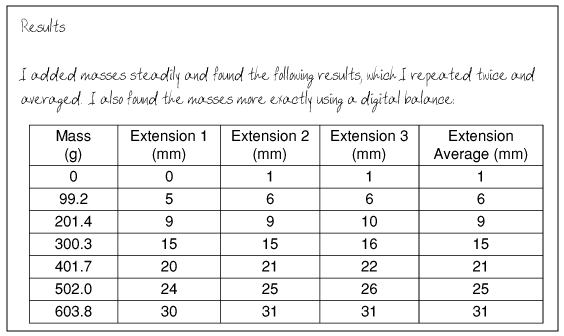 They have also learned to average properly - even though they took three sets of results, it is simply not appropriate to claim more than 1mm accuracy to the average result. See the analysis page for an explanation.
SPONSORS:
Physics online tutoring
Tutorhub provides Physics online tutoring and homework help.