Getting & Recording Results
THIS IS LEGACY MATERIAL - the science is correct but the marks no longer apply!
Here we show what you are expected to do for up to 6/8 for obtaining and recording your results.
O.6a
Collect sufficient, systematic and accurate evidence. So - at least 6 readings spread over a good range, with sensible increases in the variable you're controlling.
Repeat your experiment so you can get an average result: which we all know can be much more accurate!
It's not absolutely crucial to have averaged the results at this stage - afterall, averaging is an analytical skill, not part of obtaining. It's worth noting, however, that our pupil is claiming that their average results are accurate to 0.5 mm - that's an amazing ruler they used!
O.6b
Clear and accurate recording of results basically means produce a decent table with headings and units in the right place: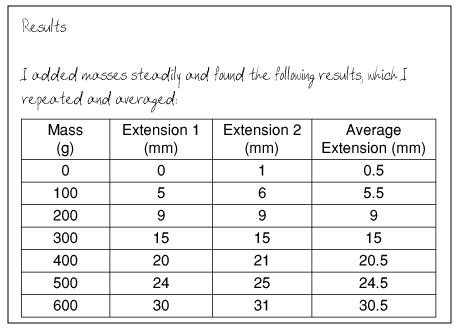 Make sure your units are recorded with each of the table headings - don't write them alongside the numbers! All headings should have units.