PHYSICS:
Main Menu
Coursework
4a & 4b
Evaluating

SUBJECTS:
English
French
ICT
Maths

SECTIONS:
About Us
Bookshop
Coursework
Downloads
Links
Revision Tips
Stating What To Do
THIS IS LEGACY MATERIAL - the science is correct but the marks no longer apply!
Get up to 8 marks just for planning what you are going to do! Here we show one way of doing it.
P.4a
In order to get 3 marks, you really need to give a little more detail to the method you intend to use to get your results: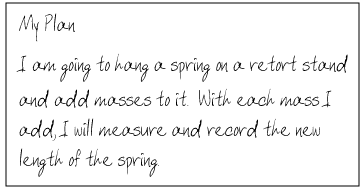 P.4b
For 4 marks, it is considered good form to write a list of the kit you're going to use, even though you may already have discussed some of it. A diagram is also very helpful. So, in addition to the approach to 4a, you should include something like this: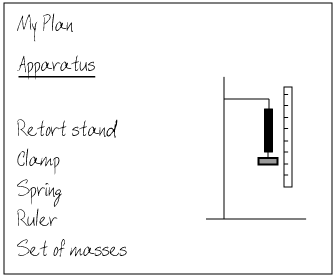 You might want to lable the diagram of course. HINT: only draw it on a computer if you know what you're doing. A hand-drawn diagram is worth just as much!
SPONSORS:
Physics online tutoring
Tutorhub provides Physics online tutoring and homework help.