Stating What To Do
THIS IS LEGACY MATERIAL - the science is correct but the marks no longer apply!
Get up to 8 marks just for planning what you are going to do! Here we show one way of doing it.
P.6a
For 6 marks you really need to show some level of understanding about what it is you intend to do! This definitely means being able to write something involving science that you may (or may not) have studied.
Factors that may cause changes in what you intend to measure MUST be listed here. Predicting what you think you might discover is also easily done here by referring to some theoretical work.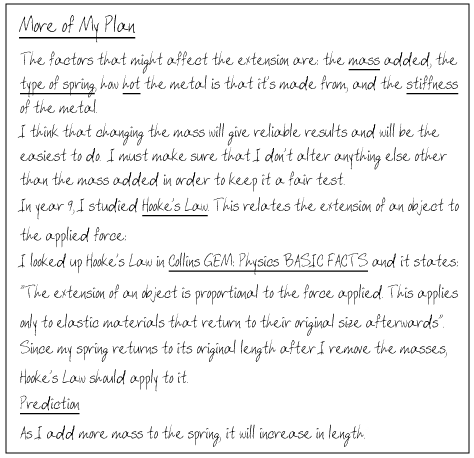 In the above plan excerpt, the student has talked about factors that may affect the length of the spring. They have identified what they want to vary (the mass) and noted how to make it a fair test. Some science has been introduced (in this case Hooke's Law) and it has been used to help write a basic prediction. Top stuff!
P.6b
This is rather lame compared to 6a, as all you really need to do is indicate over what range you are going to vary things.

Make sure you know something about variables, however: